You are here:
Home
| Latest News
Latest News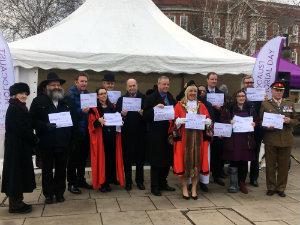 Published: Monday, 05th February 2018
Over 350 people attended a moving ceremony in All Saint's Square on Thursday 25 January to mark this year's Holocaust Memorial Day.
Over 150 people attended our launch event at New York Stadium on Wednesday 29th March, had coffee and cake and heard about some inspiring new developments happening in Rotherham.
Over the past few months leading businesses and organisations in Rotherham have been involved in developing an exciting place marketing strategy for the borough.
Building on Rotherham's community spirit and friendliness, Rotherham Borough Council and the Rotherham Together Partnership have allocated a small funding pot for grants up to £250 per group.
I was lucky enough to become an adopted son of South Yorkshire some decades ago, having done the sensible thing by migrating north with my young family!
RSS version
|
What is RSS?