Latest News
Rotherham Together Partnership Blog - Rob Odell, District Policing Commander
Published: Tuesday, 1st May 2018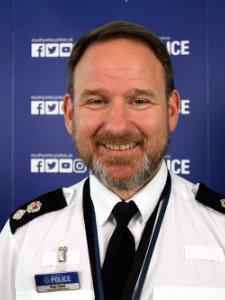 It's good to occasionally retrace your steps, go over old ground and reacquaint yourself with a patch once well known
I find myself moving into my third year as District Commander continuing to do just that. Having first been posted to Rotherham in 1997 as a Sergeant I find myself filling my day with a mixture of new experiences and deja vu. Reflecting back on my time some things haven't changed at all and in some respects everything is different.
What has a quarter of a century in policing taught me? In short a great deal, having had the pleasure of serving right across the county, seen many changes of structure, leadership, politics and the sheer churn in policing issues I am grateful that I can apply the sum of that experience to my time at Rotherham.
South Yorkshire Police as a whole has had many issues to deal with, some current and some historical and Rotherham in particular has its own legacy issues to contend with. Well reported as they are, we are systematically dealing with the history, radically improving the here and now and most importantly looking forward to a bright and promising future. What we won't do is wave that shroud and cry woe is me! That just won't do, we can do better, and we are doing better on our way to being an outstanding Police Force.
The new Chief Constable has articulated very clearly his vision and ambition for South Yorkshire Police; I share in his endeavour and take on that challenge leading policing here in Rotherham. Restoration of Neighbourhood Policing is central to that aim, so we have reinstated those dedicated teams across the borough, and we will move on very quickly to that co-location of enforcement resources with the Local Authority, which will drive our activity on behalf of all of our communities.
Victim focus is now an ingrained organisational attitude that just seems so much like common sense: be treated as you would expect to be treated yourself. Protecting vulnerability wherever you find it, children or adults, the attitude is the same in promoting that professional curiosity that gets to the heart of the problem every time. Looking after my staff and their health and well-being in a job that can be all consuming, traumatic and heart rending at times, dangerous at others. Celebrating the good work that happens daily and sharing this with partners and the public; if you see what I see you would be overwhelmed.
The national context of austerity and cuts in services cannot be ignored; we would always want more resources. Who in any public service couldn't set out an impassioned case for more resources? Whilst that lobby goes in those strategic backrooms and sometimes up front in the press, we as leaders have that responsibility in the here and now to make the best of what we have got.
Seek innovation, cut out waste and duplication, work closely with partners as we will surely achieve better results closer together in partnership than apart. I and my local Command Team take that task seriously to work with all of our partners to do just that. We have a strong and vibrant local partnership, from the many structures that we have under the overarching banner of the Rotherham Together Partnership, I see so much positive effort in bringing about better outcomes for the borough as a whole. I am inspired daily by the fantastic spirit of volunteering within Rotherham, so much human interest, so much capacity to help and improve, something that we as a collective within the borough should be constantly proud of.
So, in my crystal ball what do I see? Effective structures in the Rotherham Police, gelling together with our partners to create a group of people working tirelessly to achieve results. A plan to improve the satisfaction of those experiencing policing, reducing the numbers of victims, reducing crime and bringing offenders to justice and reducing vulnerability wherever it exists.
RSS version
|
What is RSS?